Today, I'm so excited to write about my feature :D
Sharon at
Elizabeth & Co.
featured my little girl's set in her link party.
I didn't expect it at all, I was just scrolling down the page and Voila!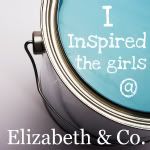 http://www.elizabethandco.blogspot.ca/2012/03/be-inspired-features-and-link-party-12.html
I saw my pink room set!!! It was awesome!!!!!
Thank you so much Sharon for featuring my project.
Also, Margaret gave me a link to the movie "Taken back".
http://antipodalarapaima.blogspot.ca/2012/03/amanda-tapping-taken-back-province-new.html
I hope they'll really use the set and I'll be able to see them on TV one day:)
Thank you Margaret, for your skill on Google! lol
Have a great day, everyone!!