Hello everyone!
Today, I finished this charming side table.
But before that, I'd just like to say big THANK YOU!!!
to all the people who have bought my furniture.
Especially this year, it seems like my stuff is flying off the shelf
( well, I don't keep them on the shelf though..)
and they are finding a new home quickly, so
OK, today's 2-tier side table started out like this.
But as usual, I wanted to paint.
( Will I ever just sand and stain a piece?)
The surface was pretty rough,
so I sanded it good.
First, I lined the groove on top white.
Then I thought I'd like it grey with black showing through underneath.
But after the first coat of black paint,
The other day, I found this gorgeous image of Eiffel Tower from 1919 at
I glued the image on top with Mod Podge,
I added "Paris" with stencil on the bottom.
I make my own stencil often because it's fast and easy.
It's hard to find the exact image of what I want at the size I want....
It's much faster if you just make them.
If you'd like to see my easy no fuss stencil, please visit
here
.
( you'll be surprised how simple it is!)
One note: It's made of paper,so when it gets moist with paint,
it'll get like this on the picture,
just press down with your fingers as you go,
be ready to get some paint on your fingers:)
After use,lay it flat and let it dry, then place your paper stencil under a heavy book and it'll be nice and flat, ready to be used again:)
I always get so anxious the moment I take off the paper
to reveal the image underneath....
This time, I thought it looked beautiful and I almost got out of breath..really!! lol
It really looks good in person and my husband said that as well,
when he saw the finished product for the first time.
Then I sealed the Eiffel Tower image with Mod Podge,
waxed the entire table, applied Polyurethane on both shelves,
waxed again.
I spray painted the hardware metallic silver then added a blue sparkle on it with Gorilla Glue.
My daughter suggested it might be better with clear one.
But it's blue for me.
Black, silver, blue... that's me :)
Here is my new ***French Love***
I tried to keep it chic and simple.
The top
The front & bottom
The side
Well, next project is going to be this cute cute cute side table.( the large one )
I found it last Saturday and can't wait to start working on it!!
( Actually I already sanded the top and filled some scratches)
I'll try to make it look like my another favourite style,
Swedish!!
Take care everyone:)
Sharing at: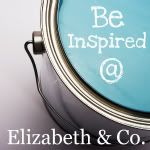 The Shabby Creek Cottage