I don't know what has just happened,
but this post's content suddenly changed to my
White Chic Coffee Table
...
.............aw..............
I was trying to link this post to a link party and suddenly it went
Poof!
Gone!
Why???
I must've clicked something.....argh.
( it's got nothing to do with a link party though,
I was editing my post,trying to add a button)
Anyways, there's no use crying over what happened so
here I go again with the quick version of it.
I finally bought ASCP and tried it.
And I'm lovin' it!!
I bought Duck Egg and painted this cutie with it.
Don't you love this shape? I do! :)
Painted, stenciled, waxed and....
Here's the finished product!!
Front
Back
Side
I love how it distressed :)
In use
Have a great day everyone!!!
Yay!!
This magazine rack was featured at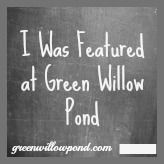 Thank you, Deborah!!!
Sharing at: